Since its early beginnings as a small fabrication business in 1972, Sharpco, Inc. has evolved into a multi-faceted custom fabrication, manufacturing and equipment repair entity serving a number of industries that include heavy construction, pipeline, forestry, agriculture, homebuilding and plant-based manufacturing.  From its modern, fully equipped 42,000 sq. ft. facility in Monroe, Louisiana, Sharpco has enjoyed a rich history of producing quality fabrication designs.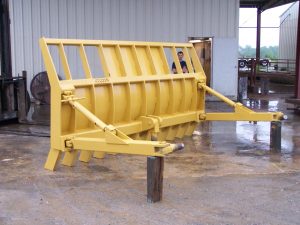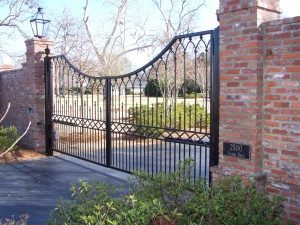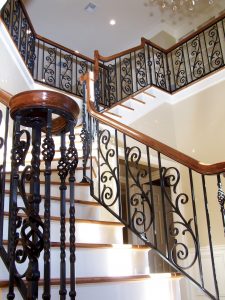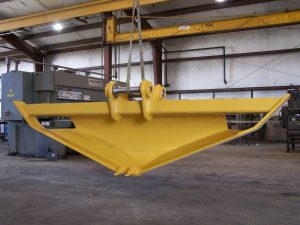 For heavy construction equipment, we manufacture large and small V-Blade designs for land clearing & forestry applications, brush piling rakes, special purpose excavator buckets and material handling "thumb" attachments.  Sharpco also repairs crawler equipment undercarriages, dozer blades, buckets and construction equipment "lowboy" haul trailers.  Structural repairs to excavator, crane, wheel loader & pipeline equipment booms are also performed by experienced personnel.
In 2004, Sharpco Sweeper Shoes, another division of Sharpco was launched.  Premium OEM quality tungsten carbide extended wear sweeper "drag" shoes are manufactured daily, and inventoried in our warehouse, for most street sweeper manufacturers.  In fact, we are currently the original equipment manufacturer for a dozen of those companies.  For product details and ordering information, a separate website has been created at SharpcoSweeperShoes.com.
Beginning in the fall of 2009, Sharpco began to design, and build, valuable and innovative products for the agricultural industry in response to an unusually harsh harvest season.  Our extreme duty poly/steel SharpcoAG Tracks systems were specifically designed to support modern harvesting equipment operating in those inclement conditions.  They have been field proven to provide superior machine flotation and maneuverability traction, minimized soil disturbance and necessary roadway mobility capabilities. Our new patent pending heavy duty SharpcoAG RailBar Modular Toolbar system has revolutionized 3-point-hitch-mounted liquid fertilizer application by providing maximum crop variations adaptation versatility alongside infinite tooling adjustability.  We manufacture pull-behind tank trailer design options to tow behind our RailBars, utilizing their integrated rear hitch features.  To ease wet season crop planting concerns-turned-critical, Sharpco designs and manufactures customized flotation upgrade solutions for modern high production, high efficiency, heavyweight planting equipment. Other products include custom designed, machine-specific iron wheels needed for over-the-crop flooded field drainage that does not damage matured standing rice.
Sharpco's custom fabrication and manufacturing capabilities are not limited only to heavy construction. Serving the housing construction industry, and those homeowners who seek exclusive, handcrafted metalwork integration into their home's design, JSharplin Metal Designs has worked in conjunction with the area's elite housing contractors to produce truly personalized interior and exterior wrought iron stair rail designs, courtyard fencing, gazebos, luxurious entry gates, planter boxes, metallic wall art, etc. for that sought after, one of a kind look.
In addition to our own manufactured products, Sharpco also markets and provides its customers direct shipment access to competitively priced quality replacement parts and ground-engaging wear products from some of the nation's leading manufacturers, through a trusted nationwide network of strategically located warehouses.  Good used serviceable parts are also part of Sharpco's product offerings for its most value conscious customers.